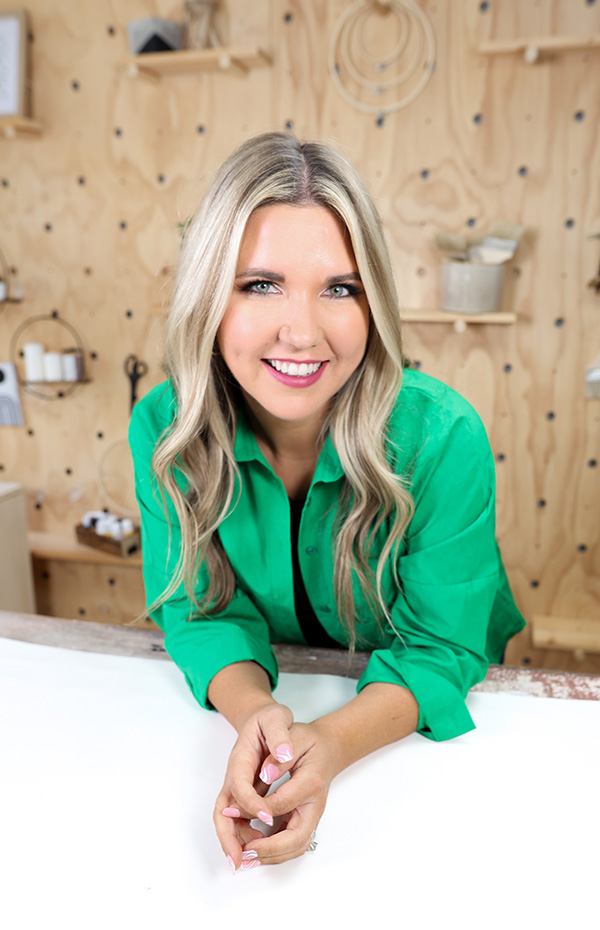 Liz Fenwick
Liz Fenwick started out as a kindergarten teacher before she became the DIY guru she is today. As a teacher, she had limited funds but she didn't let a tight budget stop her. Her journey began by researching the look she wanted for her home in high-end stores that were way out of her price range. Gathering inspiration from these stores, Liz developed her tactic of shopping at thrift stores to recreate the same looks for less.
After finding furniture she could refinish, vases she could spray paint or decor finds she could deconstruct to turn into high-end pieces, she was hooked and realized she could share her knowledge with others. By creating a social media presence across YouTube, Instagram, Tiktok, and Facebook, Liz teaches her audience how to transform their space and turn their house into the home of their dreams while not breaking the bank. At an audience of 2 million across her platforms, Liz has collaborated with top home and lifestyle brands such as Walmart, Amazon, The Home Depot, Cricut, JCPenney, and many more.
Don't miss Liz on stage Friday at 6:00 pm & Saturday at 2:00 pm

Patric Richardson
Before there was a TV show, and before there was a book, Patric Richardson loved laundry. When he was barely 3 years old, Santa brought him a toy washing machine, fueling a passion already inside him and presenting itself when he helped hang clothes on the clothesline or fold the sheets with his beloved Granny Dude.

As a child, he loved clothes, both wearing them and their care. Voted best dressed in 8th grade and in high school, the path was set. He studied Merchandising Apparel and Textiles at the University of Kentucky then left for an incredible career in luxury fashion at McAlpins, Neiman Marcus and Nordstrom. Time in these legendary stores taught him 2 major lessons, that incredible clothes are fun, and that all clothing, regardless of price can be cared for at home.

Opening his designer vintage store, Mona Williams, in 2013 Patric embarked on the next step in his journey. The store carried a small, but curated collection of fine laundry products, sparking the curiosity of the Minneapolis/St Paul community. This curiosity only grew when the Twin Cities newspaper, the Star Tribune, featured Patric and his love of laundering everything, from cashmere sweaters to tailored suits at home. This publicity completely changed his direction into the world of laundry and clothing care.

Patric started sharing his expertise at his much talked about, and often sold out, Laundry Camps, teaching people new and better ways to care for all of their apparel and home textiles. These camps sparked a revolution, prompting a book Laundry Love, now in its fourth printing and a television show, The Laundry Guy on HGTV and Discovery+. Patric has been featured in both local and national media including Live with Kelly and Ryan, the Washington Post, Better Homes and Gardens, Good Morning LA, the Wall Street Journal, NBC Nightly News with Lester Holt, The New York Times, WGN, Twin Cities Live, the Pioneer Press, GMA3, Martha Stewart Living, The Tamron Hall Show, and internationally with the BBC, The Globe and Mail and Die Welt.

Patric continues his love of laundry and home in St Paul MN with his partner and a very well cared for Lime tree.
Don't miss Patric on stage Friday at 5:00 pm & Saturday at 11:00 am & 1:00 pm