Meet DIY Guru Liz Fenwick
Liz Fenwick started out as a kindergarten teacher before she became the DIY guru she is today. As a teacher, she had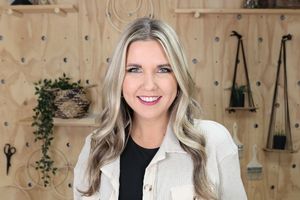 limited funds but she didn't let a tight budget stop her. After finding furniture she could refinish, vases she could spray paint or décor finds she could deconstruct to turn into high-end pieces, she was hooked and realized she could share her knowledge with others. By creating a social media presence across YouTube, Instagram, Tiktok, and Facebook, Liz teaches her audience how to transform their space and turn their house into the home of their dreams while not breaking the bank. At an audience of 2 million across her platforms, Liz has collaborated with top home and lifestyle brands such as Walmart, Amazon, The Home Depot, Cricut, JCPenney, and many more.
We talked to Liz before she plans to appear at the Johnson County Home & Garden Show and got the inside scoop on all things DIY and a few of her favorite things.
In your opinion what's the most underrated tool in your toolbox?
The most underrated tool in my toolbox is my wire cutters. While they are great for cutting through a wire, they are so much more. If you love to DIY and craft wire cutters can be used to cut through thick plastic, rope, and even rugs!

Best home purchase for under $100?

The one item in my home that I will splurge on is a nice set of sheets for my bed. When you consider you spend at least 8 hours of your day in bed, it makes sense to have an extremely comfortable set. My favorite store for sheets is JCPenney. They have some of the best quality options at affordable prices.

Tell us about your pet(s).

I have the sweetest dog, Moose. Moose is a 3-year-old Shih

Tzu. If you watch my channel, Liz Fenwick DIY on Youtube, Moose is always making cameos. He loves to be in on the action!

What's your favorite paint color?


My favorite paint color changes from year to year. I am drawn to blues and greens. I also like the look of

neutrals. If I had to select my favorite color it would be Evergreen Fog by Sherwin Williams. It is the perfect color for a bathroom.

What's one outdoor tip for big impact in landscaping or curb appeal?

I find the best plant to use to create a large impact is a fern, not to mention they are usually very affordable.

Ferns are typically easy to find in the spring and if you struggle to keep your plants thriving they are very forgiving.

Favorite room in your home?

My favorite room is my primary bedroom. When designing the room I wanted a light and airy feel. I also wanted very minimal furniture to create a relaxing retreat. To achieve my design vision I kept the walls and bedding neutral and only brought in one accent color of blue. The walls are painted the color Swiss Coffee by Benjamin Moore. To add interest to the wall behind my bed, I added inexpensive molding and painted the wall Accessible Beige by Sherwin Williams. To keep a neutral room from looking too cold it is important to bring in texture. The light fixture, rug, and patterned pillows bring texture to the space.

What's your next home project?

Currently, I am working on converting my dining room into a more functional space for my family. We have divided our pantry into two new rooms. We are converting the dining room to be a pantry for our kitchen and the other half is going to be an office space.

What home trends are you loving? What styles do you think will emerge in the future?

I love the look of white walls and light-colored floors. This trend is very much in right now. For 2023, I believe we will see darker woods making a comeback! I am already seeing this trend emerge in darker furniture pieces.

What's in your bag or purse?

Lately, I have been caring just the essentials in a belt bag purse. I carry my keys, wallet, phone, AirPods, Hanalei lip treatment, and hand sanitizer.

Tips for designing an office at home.

I think with a home office, it is important to not make the space too specific. It would be great to have a desk to work at, but if instead, you had a long table it could not only function as an office but a homework station, a craft table, a place to wrap gifts, etc. Consider creating a space that would work for the entire family.
The Johnson County Home & Garden show will take place January 6 - 8, 2023 at the Overland Park Convention Center in Overland Park, KS. See Liz on stage on Friday night at 6 PM and Saturday afternoon at 2PM. Get the chance to ask her your DIY questions and learn tips & tricks!
Dec 12, 2022, 14:00 PM